If you work a steady job and been saving up for a wedding, or even thinking of having the 'big wedding' this blog is going to be useful for you. You don't want to get married and go broke after the wedding so I'm sharing these tips on how to have your dream wedding without breaking the bank!
According to TheKnot.com The Average national wedding cost in the U.S. has soared to $35,329!!
But Remember, this cost is just an average, so depending on where you are the cost could be twice as much or half the cost!
The average wedding cost for northern New Jersey (where I had my wedding) is $47,868. You can get a more detailed breakdown's by state from this article.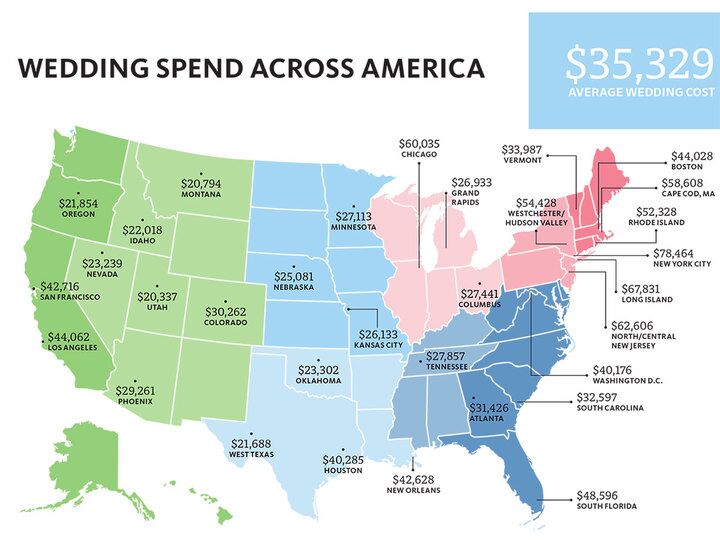 My wedding guest count was at 200 guests adults and children.
And my wedding cost came in at 14,000 (more than I planned to spend but just some things I refused to compromise on) but don't worry I'll tell you how to avoid this mistake.
I'm going to show you my wedding numbers using the national average of 140 guest because I know 200 is pretty big for a wedding and you just may not have that many people you'd want at your wedding. Ready to take notes????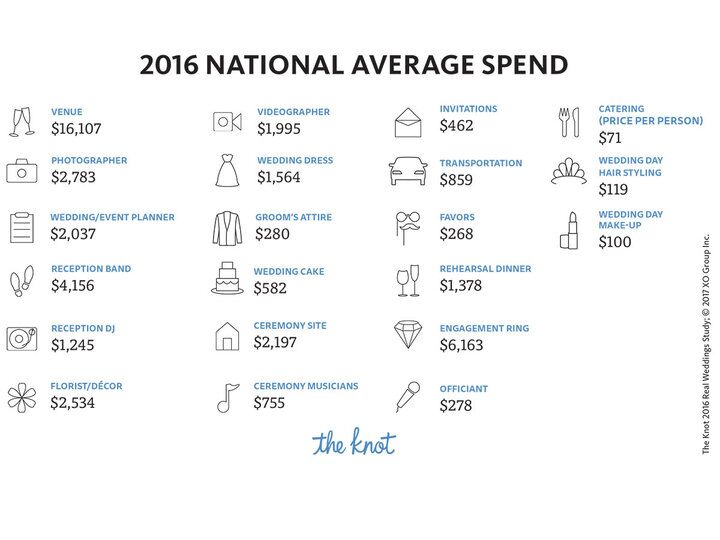 Get you a venue that doesn't require to take their all inclusive packages!

The venue I chose allowed me to just rent out the space based on the guest count, came in at $20 per guest. So if I use the guest count of 140, I'm spending $2,800 for venue. This venue also offered a ceremony space for $10 a person, but I opted out and went for the traditional church (saved money in the long run). The Biggest hurdle is out the way. There are more affordable venues if you go this route, but I was looking for a more lofty feel. The venue site I used and more details about my other vendors is located in my other blog post, just click here.

Shop around for caterers!

Aim to use more small business restaurants that do catering and are less pricey than the big catering names that you may be used to. Still going with the 140 guest count, my caterer would run me $2,380 for buffet style dinner and $490 for cocktail hour. You can still save more money here, but I ran out of time at the end: you could easily buy your own fruits, vegetables, assorted dips and set that up for cocktail hour. If you find a really good venue, then you can definitely have a potluck style dinner ceremony if you're doing close family and friends and don't care to be too fancy. Saves so much money that way! I had way too many guest to go that route, but if you can then go for it!

Now for Open bar or not.

You already booked a venue that's letting you bring outside food, all you have to do is ASK if you can supply your own liquor! The answer most probably is YES, they'll just have you sign a liquor liability waiver or get liquor liability insurance (whatever venue you get will tell you what they require). I opted to do a drink station that included mixed drinks, sangria, assorted bottles of wine, and pitchers of fruit water (I got the idea from pintrest!). The liquor and wine were gifted to me by my brother and the pitchers I've been buying at Macy's every time they had a sell! So open bar cost me $0. The below picture is the style of bar service I had at my wedding and you can find the ideas on pinterest where I found them, just click here to go to my Pinterest board for other bar style ideas. A link to the different assorted pitcher I bought is right here. This idea definitely works with non-alcoholic beverages as well!

Photography!! Yikes!

Photography can turn out to be the most expensive item on the list! You DO want good photos because after the day is over all you'll have is the photos as memories! My photographer ran me $3,250 for 2 photographers and 1 videographer for all day services. I did have a more affordable photographer but I fired him (you can read the post here) but it was last minute, I didn't have time to shop around anymore and I found someone better so I went with them. You can avoid this high expense if you have a friend who is a photographer, which I had but she was my bridesmaid. Or you can rely on your guests to take photos of your ceremony and reception and then go to picture people or JC Penny to take professional photos of you and you bae after all the dust has settled.

Reception Entertainment!

I skipped the band and went for a DJ that I knew would keep the dance floor packed and the guests entertained! Much less expensive than traditional wedding bands and this is a variable expense depending on the DJ you hire so lets put him down at $1,000 for now.

Decor can get pricey but you don't have to let it! DIY!

Skip the flowers and go for some other form of centerpieces! I was going for a particular look and it cost me per table so I opted to have 10 tables of 20 guest, so if I go with my 140 guest count I would only need to decorate 7 tables so that would come to about $1,000. Trust me that's a pretty good price, and I could've come way under that price but I was hell bent the romantic candle lit lantern look! This definitely could be way more affordable, just enlist the help of friends and family, and gather items you already own and get creative!! It'll cost you more time and less money but it'll be worth it!
Using these numbers, IF I had a guest count of 140, my wedding expenses come down to $10,920 which is pretty good and way below the national and regional average! I've seen some venues that cost that price alone, so I'd be pretty happy with that!
That's the bulk of the wedding expenses. Rings, transportation, dress, wedding cake, favors, invitations, honeymoon: those are all variable expenses which can range you from hundreds to thousands of dollars depending on how you plan it! If you want a more detailed count to save the most money, I have no problem sharing that with you guys, just let me know! If you had a wedding that came below the averages, share some tips in the comments to help some one else out!
Until Next time guys….